Millennials may be working hard to buy their dream homes, but many find themselves compromising to fulfill their goals of homeownership.

According to a survey from ValueInsured, 85 percent of millennial homeowners compromised when buying their dream house. Survey respondents said they had to give up various features and qualities to stay within their budgets.

Because of prices, ValueInsured found that:

41 percent of millennial homeowners bought homes smaller than they wanted
41 percent gave up features within their home, like kitchen appliances, types of flooring or air conditioning and heating systems
40 percent purchased homes in a different location than desired
39 percent wanted more outdoor space or land then they have
37 percent don't like the style of their home
Of the millennials who have purchased a home, eight in ten wish they bought a different home and would like to move.

Nearly 80 percent of millennials plan to move into another home in the next five years, while 52 percent plan to move in the next three years.

Compared to other generations, millennials are compromising the most when buying a house. Only 34 percent of baby boomers said they didn't get their dream house, while 56 percent of homeowners in other age groups reported making compromises.

Currently, the millennial homeownership rate in the United States is 35.3 percent, which is the lowest it's been since the U.S. Census started tracking homeownership by age groups in 1982.

According to a Toluna Research survey, millennials low homeownership rate stems from debt, lower down payments and increasing mortgage rates. Millennials have more debt then baby boomers. Seventy-eight percent of millennials have credit card debt, 68 percent have car payments and 61 percent have student loans.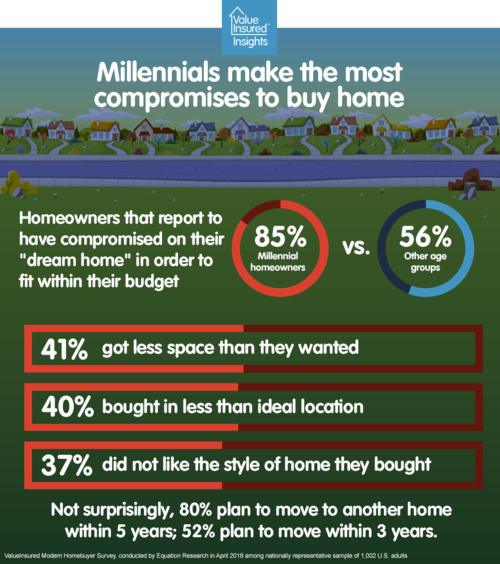 Courtesy of Boston Agent Magazine