Homeownership rates are falling in over half of the country's largest cities as more residents seek out rental agreements, according to a recent Redfin study. Though home sales jumped in 2016 and are projected to climb by a modest 3 percent in 2017, the study of homeownership rates in the 100 biggest cities show that the number of residents looking to rent will continue to grow.
Amid changing demographics and rising property costs, most major American cities are now dominated by renters, a challenging trend for residential real estate. As home prices rise and supply continues to decline, less people are seeking or even able to own a home.
Peak ownership
The housing market reached its peak rate of homeownership at 69 percent in 2004, just before the recession caused a steady decline, according to the Federal Reserve. At the end of 2016, homeownership was at 63.7 percent. The national homeownership rate, however, fails to show how truly rent-dominated the country's major cities have become.
Fifty two of the largest 100 American cities are majority renters now, according to Redfin. Twenty-one of those cities have been renter-dominated since 2009, the study shows.
We'll use 2015 as a comparison, as Redfin's study of the 100 largest cities and their ownership rates does not have 2016 data. In the last quarter of 2015, the national homeownership rate was 63.8 percent, according to the Fed. That number is higher than all but two cities on Redfin's study, and neither city is considered major: Scottsdale, AZ, had a homeownership rate of 66 percent and Chesapeake, VA, had a rate of 70.4, according to Redfin.
Larger cities are seeing the push to rental units more so than other places because they have seen larger increases in housing prices, an influx of residents to urban centers and tight inventory in competitive markets, according to Redfin and other reports.
In Boston, 34.3 percent of residents are homeowners, according to Redfin. That's down from 37.3 percent in 2009. Boston has the third lowest homeownership rate of any major city, Redfin's study says.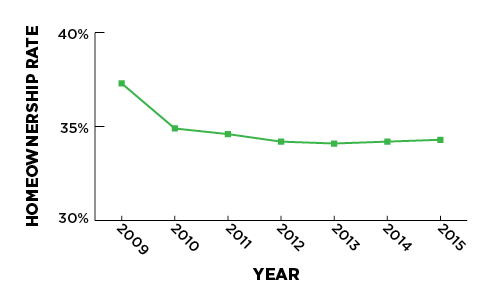 Boston's homeownership rate by year. Source: Redfin
The move towards rentals
The largest cities are seeing an influx in renters because home prices in those areas have rebounded from the recession and are now considered too pricey for many in the market. That includes Millennials, who are working to move out but are increasingly drawn to renting because of the price of ownership in major cities, according to a report in Bloomberg. Retiring Baby Boomers are also contributing to the phenomenon, as they leave their homes to downsize in urban centers, Bloomberg said.
On top of new demographics seeking housing in big cities, inventory is at record lows. Nationally, housing inventory hit its lowest mark since 2012, when Trulia began compiling inventory levels.
A 2015 study by the Urban Institute further explains the trend toward renting by noting that the average U.S. household is smaller, stagnant wages keeping people from making big purchases and the influx of immigrant populations, especially Hispanics, to urban centers.
In fact, the study expects the trend toward renting will continue into 2030. Homeownership rates will continue to drop if housing stock remains low and prices remain high, Richardson said.
"We don't have enough affordable supply in either rental or for-sale markets," Nela Richardson, chief economist at Redfin, told Bloomberg.
Courtesy of Joe Ward, Boston Agent Magazine