Every year, Redfin polls recent and prospective homebuyers in an attempt to gauge how people's views of the housing market have changed, or remained the same, from one year to the next. But this year is different. This year we have a new president, and in that president, we have discovered an endless well of uncertainty.
Still, that uncertainty isn't dampening the spirits of homebuyers, according to Redfin's latest report on homebuyer perspectives. Here's what researchers found:
1. People are more willing – In 2016, when asked how their perspectives on the market had changed from 2015 to that year, 33 percent said they more inclined to buy a home. It was the year's top answer. It was also the top answer this year, but the share of respondents saying it has increased to 43 percent, as the below graph shows. There are several explanations for the increase, but regardless of any, the implications are a constant: more people are open to buying a house right now than they were this same time a year ago.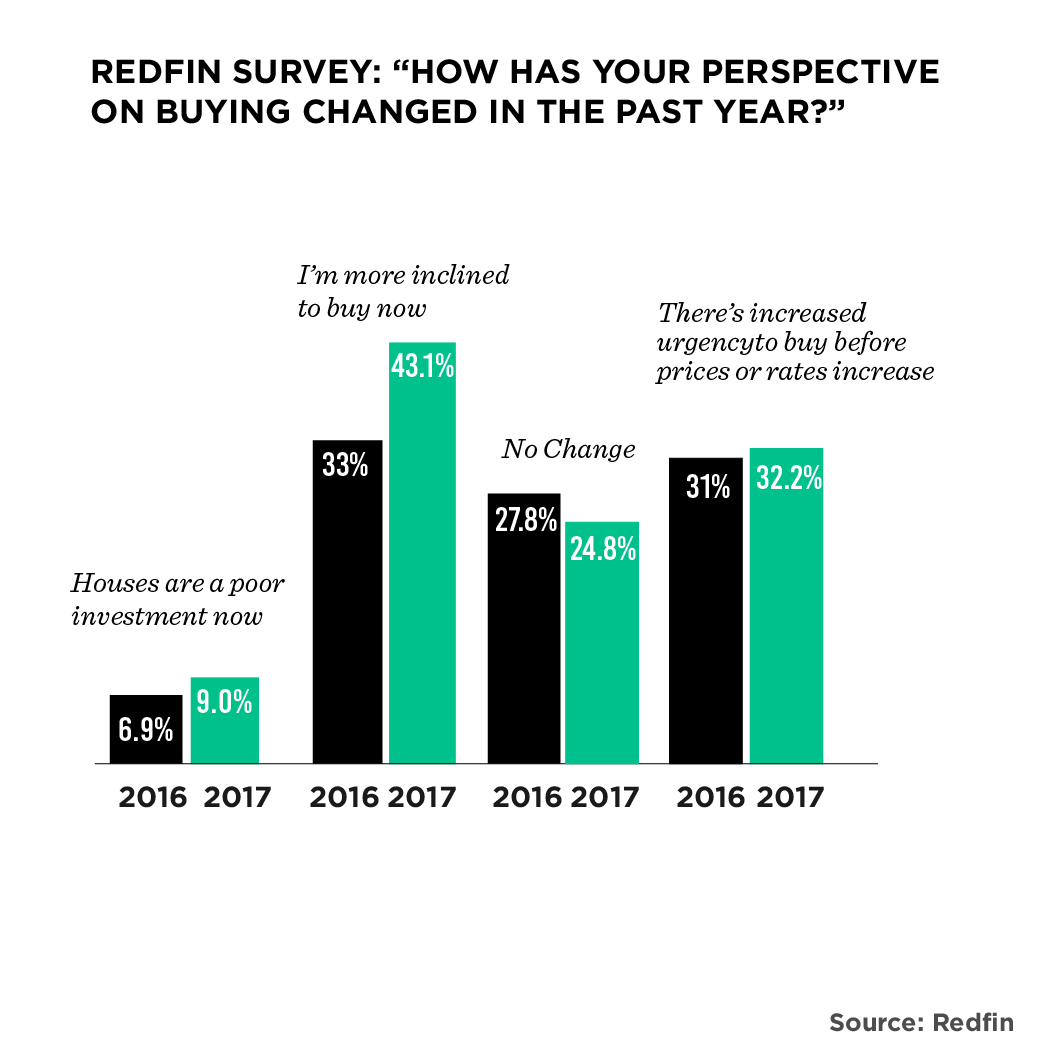 2. People really do think mortgage rates will rise – For the past several years, homebuyers needing financing and homeowners wanting to refinance have benefitted from historically low interest rates. Where 10 percent was a common rate in the '80s, people have now grown accustomed to paying less than 4 percent interest on their 30-year mortgages. But now that rate is rising, as it was always destined too, and most prospective buyers expect to continue doing so. Nearly half of respondents expect mortgages rates to increase over the next six months; and that's a motivator to buy now.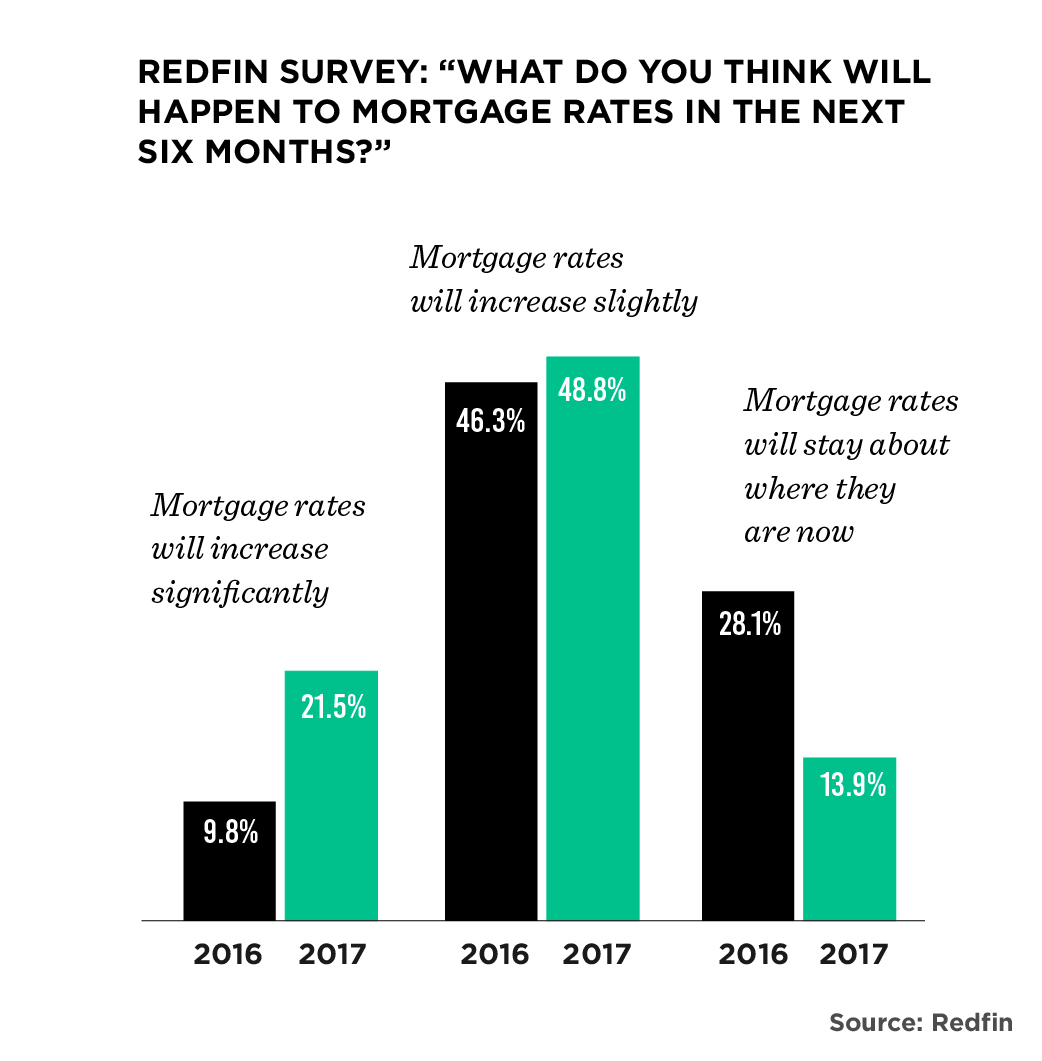 Still, Nela Richardson, Redfin's chief economist, is quick to point out that while rising rates are stoking demand, forthcoming increases are unlikely to be so stark as to dissuade people from entering the home buying market.
"Rates are no longer at their historical lows but they are far from the levels that would scare off buyers," Richardson said.
3. Life remains the No. 1 reason to buy – According to Redfin, the No. 1 reason people decide to buy a house remains "big life events," like a marriage or like a divorce. People are often buying out of necessity – they need more space or need more money. One quarter of recent homebuyers, in fact, attributed their purchase decision to rents that were too high, or that they were tired of paying.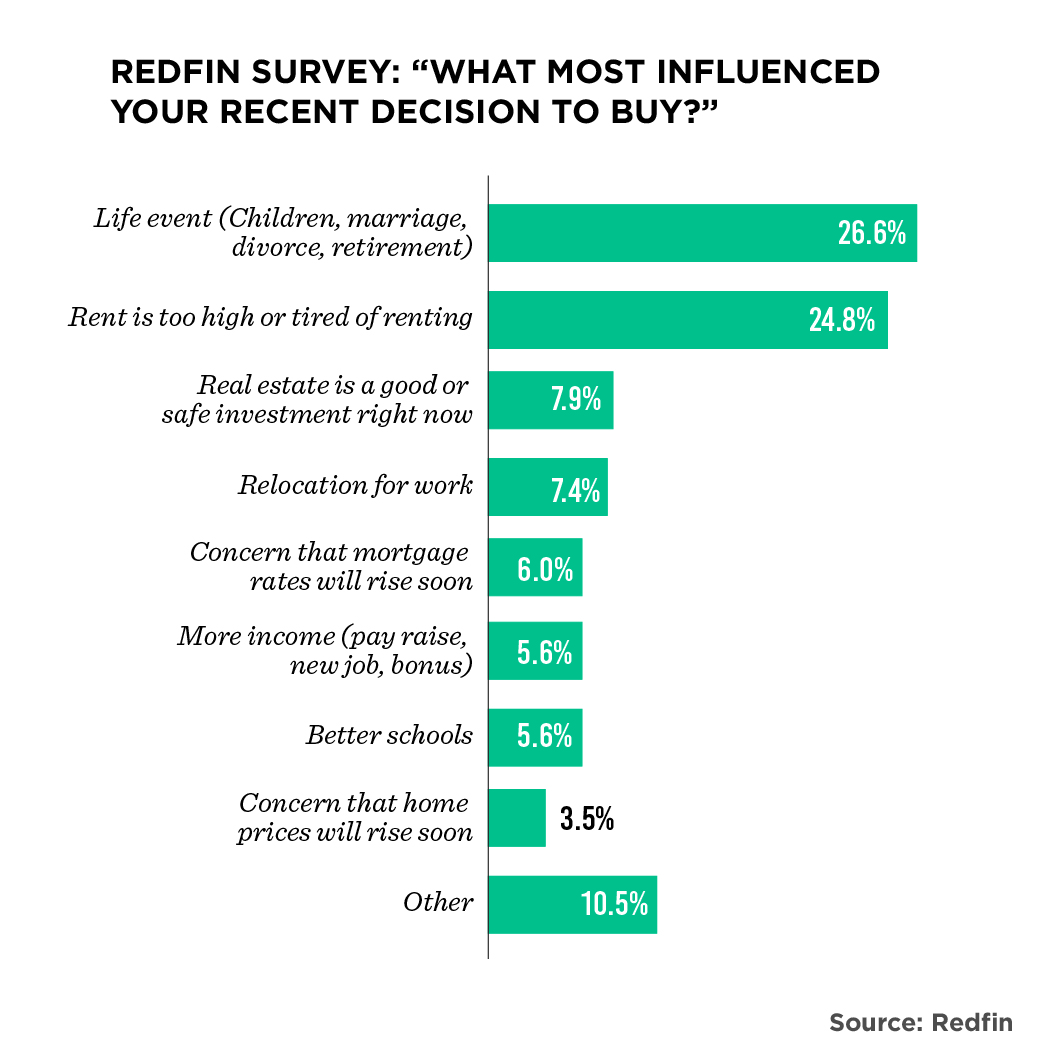 Respondents did cite other motivators, as the above graph shows, but no single response was near as significant as the top two.
Courtesy of James McClister, Boston Agent Magazine